Challenge
Ingrained into the American Dream is this idea that if I work hard enough, I can achieve my dreams. In this pursuit of self fulfillment in the United States, we lost the value of community. This is heightened in the age of social media, and a generation that has been labeled the "Me" generation. Whether you agree with the idea that millennials are more self centered, or not, there is an emphasis in our culture on self expression and individuality. Individuality is defined as the habit or principle of being independent or self reliant.
OBJECTIVE
The goal of our campaign was to move from being solely individually focused to learning how to work together, creating synergy. One of the pain points people often have with working in a group, is laying down their individual identity. That is why we want to move towards the picture of a mosaic. A mosaic does not ask for you to lay down your identity, but instead bring what you have to the table, to create something bigger together: synergy.
We partnered with Sagepath to create this hypothetical campaign, all 3 brands come together to create a social experiment that invites their audiences to share their emotions through a campaign called Moodsaic.
Brand Analysis
From our research we found that our brands, Nike, Coca Cola, and Facebook's combined purposes are to inspire optimism and happiness, to innovate, and to create a world that is open and connected. Each of these brands is a lifestyle brand, that reaches beyond the product they produce to engage and change the lives of their audience.
Key Insights
From our research we found that our brands, Nike, Coca Cola, and Facebook's purposes are to inspire optimism, happiness, to innovate, and to create a world that is open and connected. Each of these brands is a lifestyle brand, that reaches beyond the product they produce to engage and change the lives of their audience.
At the intersection of each of our brands, our audience, and the tension we are addressing is brings us to our organizing idea. The organizing idea for our entire campaign was, "Inspire Creative Connection." We choose this idea as our guiding light throughout the campaign because we believed this is something that our brands could connect to. All of the brands are active in inspiring their audiences, they are known for their creativity and innovation, and each of these brands is seeking to bring communities and the world together.
Campaign Narrative
"The shared experience of humans is that we all feel. It is often easier to categorize life (emotions/feelings) into boxes that are black and white, good and bad. We believe people are made up of a range of emotions that can be expressed through a spectrum of colors, creating the mosaic that is the human experience."
Social Media Blackout
During the 48 hours that the Social Media Blackout is occurring billboards throughout the world in different communities will have a countdown with the the brand logos. This countdown will also live on the Brand's Social Media pages. After the 48 hours is up, a logo animation will reveal the collaboration of the three brands into Moodsaic Installation.
At the end of the Brand Blackout, the Television Ad will be released by all three brands, on their social media pages, as well as on Television. This will start the conversation, and bring some clarity to the buzz. In the TV Ad, all three brands will invite their audience to take part in sharing their emotion.
Phase 2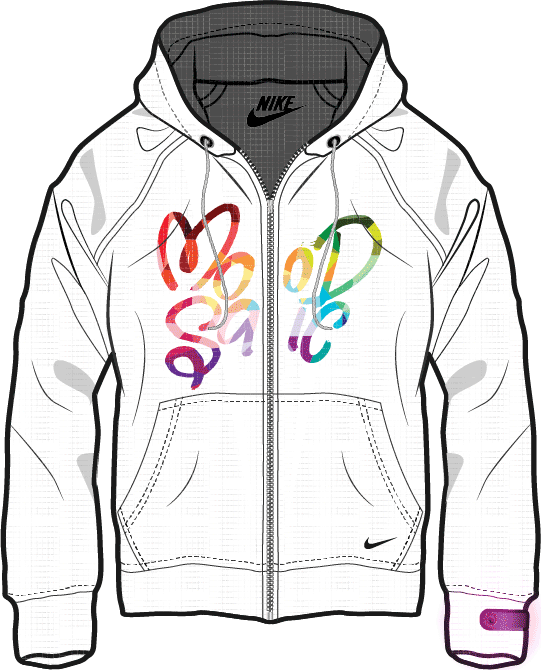 NIKE WEARABLES & ADS
The Nike Ads were created with the help of our fashion design illustrator who we collaborated with and art directed a concept where we wanted a shoe and apparel to change colors and collect data as a person's mood was changing throughout the day. The shoe and apparel have fiber technology that allows this to happen, and the data can be collected through a Nike Apple watch as well as the Nike Run App.
The shoe is made from jacquard fiber mesh. There is a sensor on the beneath the tongue of the shoe that collects data from the fibers. The light on the sensor changes color according to wearer's mood, etc. The Nike swoosh on the side also changes. The apparel is made from jacquard fiber cotton. The leggings are made from jacquard fiber polyester and spandex. The jacket has a sensor on the sleeve which collects from the apparel fibers, and could sync with the shoe.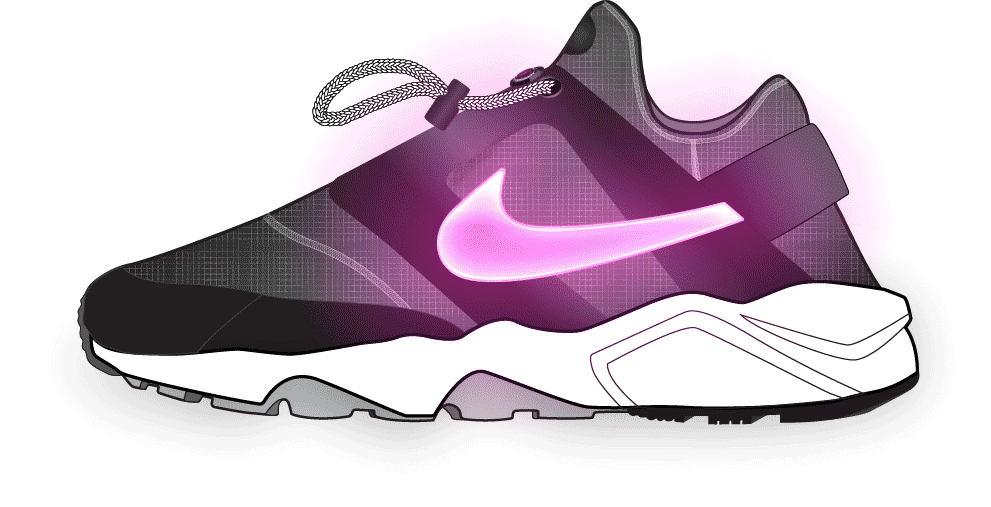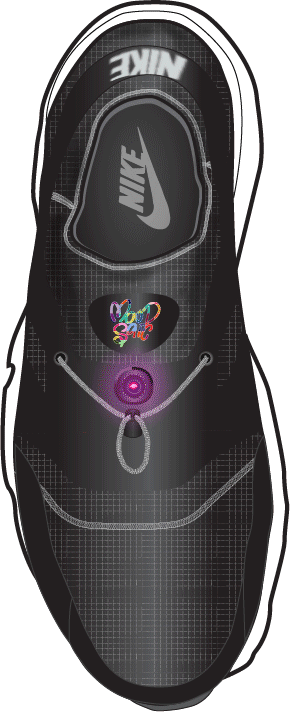 Vitamin Water Bottle
The Vitamin Water bottles will have a thermal ink wrapper that changes color as the temperature of the drink changes.Starting off gray, then transitioning to the original color of the wrapper, then to the final color of the drink. Vitamin Water works best with this campaign as Vitamin offers a variety of flavors and benefits based on what a person wants or needs in a drink. The style of the ink wrapper resembles our graphic aesthetic you see in the Nike ads, as well as in Phase 3.
Instagram Filter
Moodsaic will have a filter on Instagram that uses facial recognition technology and cater a filter based on a reading of your face. For example, a brighter, lighter tones, will be used if you appear to smiling, while darker tones will be used if you appear to be more serious. With these filters, people will use Instagram sticker that uses that hashtag and hashtag "Feelin ____" and type what they are feeling in that moment. Once they have done that they can post it to their story and the data will be collected for our final Phase 3.
Phase 3
Moodsaic Installation Piece
The Moodsaic installation is a piece that will take all of the compiled data being shared from Facebook, Nike, and Coca Cola and will display it in a way that both intrigues and informs. It will be placed in key places in cities around the world, to display the mood of the community. The Moodsaic Installation brings awareness to how we are feeling as a community, whether it's optimism, stress, sadness, frustration… it will bring awareness to how we are feeling collectively. This information will empower cities and communities to address the feelings they are experiencing. Putting this information into a public space, goes directly back to the heart of street art.